Monday, Apr 1, 2013, 5:32 IST | Place: Mumbai | Agency: DNA
The city's municipal corporation is considering to thrown open playgrounds of municipal schools to private school students.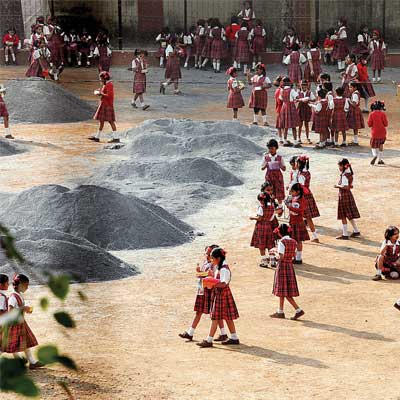 The city's municipal corporation is considering to thrown open playgrounds of municipal schools to private school students. The civic body's move is aimed at accommodating schools which do not have playgrounds of their own.
In the space-starved city of Mumbai, a number of schools do no have a playground on their premises. Consider this – Nearly 720 schools (that's 60%) run by the municipal corporation do not have a playground of their own. As for private schools, 234 (33%) unaided schools of 716 lack a playground while 191 of 442 aided schools (43%) have no ground.
The Right To Education (RTE) Act, 2009 had mandated, among other things, that each school have its playground and schools which do not have one stand to lose recognition. The deadline given to schools to comply with these mandatory norms was fixed for March 31, 2013.
Now, the municipal corporation is considering bunching such schools which do not have playgrounds and offering them a chance to use the grounds of civic schools.
Additional municipal commissioner, Mohan Adtani, said the civic body has written to the state about certain parameters of the RTE Act, including that of having playgrounds, which cannot be complied with. "Let's see what the state government says. A decision will taken after that," said Adtani.
He added said the BMC plans to offer schools a playground to the nearest municipal schools, preferably situated within a 3km distance. He clarified that private schools, which desire to use playgrounds of municipal schools, would have to make an appeal to the municipal corporation. "Such schools will have to take the first step and we will have every right to accept or decline their request," said Adtani.
Asked whether allowing private education institutes to use civic school grounds would put a strain on the already-limited municipal open spaces, Adtani said that the finer aspects of the issue would have to be worked out in detail.
Civic activist Aftab Siddique, however, said she was taking the municipal corporation's move with a pinch of salt. Terming the idea unfeasible and one that will put strain on the existing open spaces, Siddique said. "Even if a playground is located within 2km or 3km, it is not feasible for children to travel during playing hour."
Siddique, chief of Bandra's 33rd Road advanced locality management, questioned how schools can compromise on such issues, especially when students are charged for sports and related activities.