Friday, Apr 19, 2013, 13:14 IST | Place: Ahmedabad | Agency: DNA
It may not be possible to implement the decision this year as most schools have completed admission process.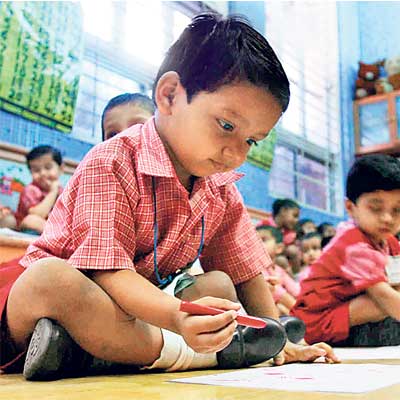 Waking up from slumber, the Gujarat government has finally issued a general resolution (GR) for 25% reservation for students from socially and economically backward classes in classes I to VII of the elementary section. The Supreme Court (SC), in April last year, had directed all private schools to reserve a quarter of their seats for children from poor families under the Right of Children to Free and Compulsory Education Act, also known as Right to Education (RTE) Act.

However, it remains to be seen if schools will be able to implement this order this academic year.

Sources in the primary education office said that the GR has already been issued by the state government approving the proposal and its implementation.

Sources said that the process to issue instructions to elementary schools in Gujarat is on. "We will soon inform the schools about giving admissions to poor kids from this academic year," said the official, who did not wish to be identified.

But, this intimation may not yield any fruits as majority of the schools have already completed their admission process.

Earlier, the Gujarat government was reluctant to implement the proposal, as they claimed that the central government had not issued the necessary grant worth Rs1 crore. Similarly, schools were wary of implementing it, as there was no clarity on expense-sharing between schools and state government of the funds awaited from the Centre.

School authorities feel that it would be tough to immediately implement this delayed decision. "It would be very late if schools are asked to admit poor students now. The admission process has been completed in majority of the schools and classes will be overcrowded if more students are included," said Ranjeeta Gill, director of the HB Kapadia group of schools.

Gujarat Pradesh Congress Committee spokesperson and former syndicate member of Gujarat University, Dr Manish Doshi, said the state lagged behind in implementing RTE effectively. "If the CM worked as effectively for RTE as he poses for photographs, poor students would benefit in Gujarat, which is not the case right now," said Doshi.